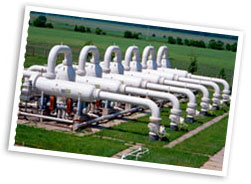 The Facility
Gill Ranch Storage is an underground intra-state natural gas storage facility near Fresno, Calif. It includes a pipeline that links the facility to Pacific Gas & Electric Company's (PG&E) mainline transmission system, allowing it to serve customers throughout California.
GRS has the capacity to provide approximately 20 billion cubic feet (Bcf) of underground natural gas storage.
The facility is located about 25 miles west of Fresno and includes an approximately 27-mile, 30-inch pipeline, which is connected to the PG&E Line 401 north of Panoche, Calif.
The premium storage location offers a unique opportunity to access five interconnects.
The site was developed in a joint agreement by Gill Ranch Storage, LLC, a subsidiary of NW Natural, and PG&E.
The site has potential for future expansion.
Storage at Gill Ranch
During the 1980s and 90s, producers extracted natural gas from Gill Ranch. Today, Gill Ranch Storage:
| | |
| --- | --- |
| • | Uses the dry gas reservoirs located on the ranch for storage. |
| • | Uses moderate water drive reservoirs, reducing the quantity of cushion gas. |
| • | Is a high-deliverability, three-turn facility. |
A Premium Storage Location
Gill Ranch is an excellent site for California storage customers. It is:
| | |
| --- | --- |
| • | Located just off PG&E line 401, at a point on the PG&E pipeline system with distinct locational advantages. |
| • | The farthest south of all independent storage facilities on the PG&E system, offering a unique opportunity to access five interconnects. |
| • | Well positioned to accept natural gas from emerging supply sources as well as to serve new electric generation and growing consumer markets. |